Unlocking the Power of ISO 27001 and ISO 22301 Audits
Safeguarding Your Digital and Business Continuity
Datasur: Setting the Standard for Information Security and Business Continuity
In a digital world where data is the lifeblood of business, having a reliable partner for information security and business continuity is crucial. We are proud to announce that Datasur, as the sole commercial data center in the country, has once again achieved recertification in the realms of information security and business continuity.
Zero Non-Conformities: Leading by Example
We are delighted to share that during our recent ISO 27001 and ISO 22301 audits, Datasur accomplished a remarkable feat – zero non-conformities. This achievement underscores our unwavering commitment to excellence in safeguarding your data and ensuring the uninterrupted flow of your business operations.
Our pursuit of perfection in information security and business continuity is a testament to our dedication to providing you with the highest level of service. When you entrust your data and operations to Datasur, you can be confident that you are partnering with an organization that leaves no room for compromise.
Behind the scenes
Before the Audit: Preparation and Planning – Insights from Datasur
Preparing for an audit is a meticulous process that involves various critical steps and considerations. At Datasur, we understand the importance of thorough preparation to ensure a smooth audit experience.
Preparation and Planning: What It Entails
Before the audit kicks off, meticulous preparation and planning are essential. This phase involves a comprehensive review of our information security and business continuity management systems to ensure they align with the ISO 27001 and ISO 22301 standards. This year, I, Sheetal Ganput, the General Affairs Manager at Datasur, have taken full charge of the ISO audit process within the company.
During this phase, we evaluate and document our policies, procedures, and controls, ensuring they are current and efficiently enforced. We also pinpoint potential areas for enhancement and establish corrective actions to rectify any gaps or weaknesses.
During the Audit: The Process and Key Focus Areas
During the audit itself we closely collaborate with auditors to demonstrate our commitment to information security and business continuity. We provide evidence of our compliance with the standards, showcasing the effectiveness of our controls and processes.
Auditors pay particular attention to the consistency and efficacy of our systems. They examine how well we protect sensitive data, manage risks, and ensure business continuity in the face of disruptions. This stage is crucial in validating the strength of our security and resilience measures.
During the audit, it's essential to emphasize that a comprehensive examination takes place, encompassing not only technical aspects but also a wide array of other critical areas, including HR practices, office operations, legal compliance, commercial activities, contract management, supplier relationships, and the integrity of our supply chain, among other aspects.
After the Audit: Celebrating Success and Charting the Path Forward
Datasur takes great pride in our recent achievement of zero non-conformities (NCs) during the audit. This remarkable result reaffirms our dedication to maintaining the highest standards of information security and business continuity.
However, we do not rest on our laurels. We are committed to continuous improvement and evolution. To that end, we are determined to create awareness both internally and externally about our ongoing efforts.
One of our initial steps is engaging all stakeholders in the Datasur community, including our Board of Directors, shareholders, and more. We believe that shared understanding and commitment are essential for our collective success.
Our Ongoing Promise
Looking ahead, Datasur is embarking on a significant transition from the 2013 version to the latest 2022 version of ISO 27001. This transition, led by our General Affairs [Strategy Management] department, presents exciting but challenging opportunities.
It involves adapting to new policies and rules for the data center, which requires meticulous planning, analysis, and implementation. This means adding extra layers of work, incorporating additional checks, and enhancing awareness among our team and clients.
Our goal is for everyone to embrace this transition actively, ensuring that we remain at the forefront of information security and business continuity. We are dedicated to shaping the future of Datasur with a forward-thinking perspective, always seeking innovative ways to enhance our services and security.
At Datasur, there is always a fresh perspective, and we are never satisfied with the status quo. We are committed to evolving, growing, and leading the way in the ever-changing landscape of information security and business continuity.
Stay tuned for more updates on our journey and thank you for being part of the Datasur family.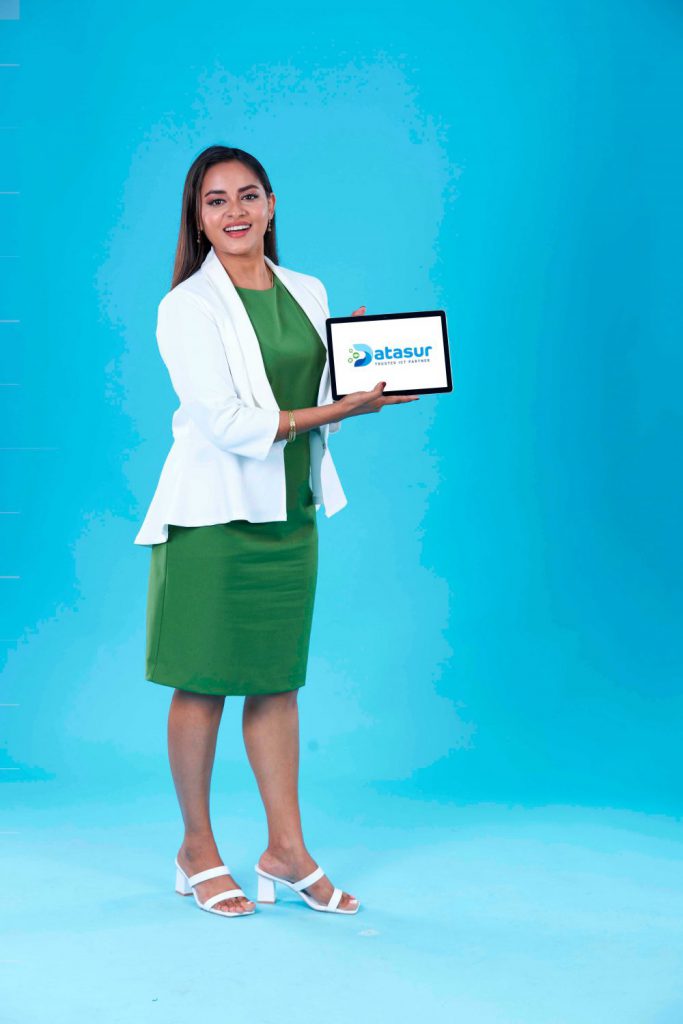 Stay secure, stay connected!
Best Regards,
Sheetal Ganput, M.Sc.
General Affairs Manager Datasur