Empower Your Digital Journey: MyBox & Cyber Security Insights
A Recap of Our MyBox Webinar: Powering Productivity with MyBox The Future of File Sharing
We recently hosted an insightful webinar, "Powering Productivity with MyBox: The Future of File Sharing,". In case you missed it or wish to revisit the highlights, this recording offers you information about this game-changing platform.

MyBox, a powerful solution, is poised to reshape the way organizations handle file sharing and storage. Datasur is proud to bring you the best in cutting-edge technology and user-friendly interfaces.

Webinar Highlights
Our webinar was a deep dive into the world of MyBox, focusing on its potential to revolutionize the way you manage your data. Here's a quick overview of what we covered:
Unified Access: MyBox simplifies file sharing by providing a single access point for files stored in various cloud storage services, accessible seamlessly via web browsers, desktop clients, and mobile app. This streamlines your workflow, enhancing efficiency and collaboration.
Robust Security: Data security is paramount. MyBox ensures it through advanced encryption, data loss prevention, and compliance features.
Customization: We highlighted MyBox's adaptability to align with your company's branding and requirements, delivering a seamless, branded user experience.
Scalability: MyBox grows with your business. It's effortlessly scalable, accommodating your evolving needs.
Remote Work Optimized: The era of remote work demands secure access from anywhere. MyBox excels in remote work scenarios, offering uninterrupted access to your data.
If you missed the live webinar or want to revisit any of the insightful content, we've got you covered. The video recording of "Powering Productivity with MyBox: The Future of File Sharing" is now available. Dive back in, and discover how MyBox, in our role as your Trusted ICT Partner, can supercharge your organization's productivity.

Moving Forward with MyBox
MyBox, along with Datasur's expertise, is your passport to a more efficient and secure future. Don't miss the opportunity to explore the world of MyBox with us. Join us in shaping the future of file sharing and discover how it can empower your organization.

As always, we're here to assist you with any questions or further discussions regarding MyBox and its integration into your operations. Reach out to us anytime via [email protected]; we're eager to be your partner on this journey.
---
Whitney de Rijp's Cyber Security Insights on Q-Time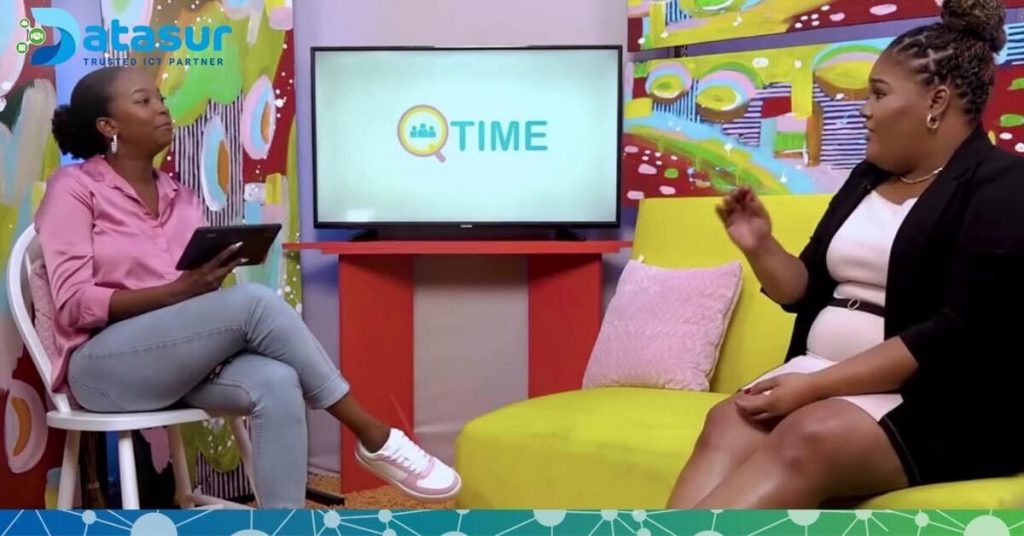 In case you missed it, our very own Commercial Affairs Manager, Whitney de Rijp, recently took the spotlight as a guest on the latest episode of "Q-Time." During this engaging discussion, she shared invaluable insights and expertise on the critical topic of Cyber Security Awareness.
A Deep Dive into Cyber Security Awareness
Given that October is celebrated as Cyber Security Awareness Month, Whitney's appearance on "Q-Time" couldn't have been more timely. In honor of this occasion, she delved into the heart of the matter, exploring key strategies and best practices to ensure online safety. She stressed the importance of vigilance, continuous education, and proactive measures to mitigate risks.
Catch the Recording
The good news is that you can still catch all the knowledge and wisdom Whitney shared during the "Q-Time" episode. The entire discussion has been recorded, and you can watch it at your convenience. Whether you're an individual seeking to enhance your online security or a business owner looking to fortify your digital defenses, this episode is a treasure trove of insights.
Watch the recording of Whitney de Rijp's "Q-Time" episode and enhance your cyber awareness today.
---
Tips from Datasur about Cyber Security Awareness