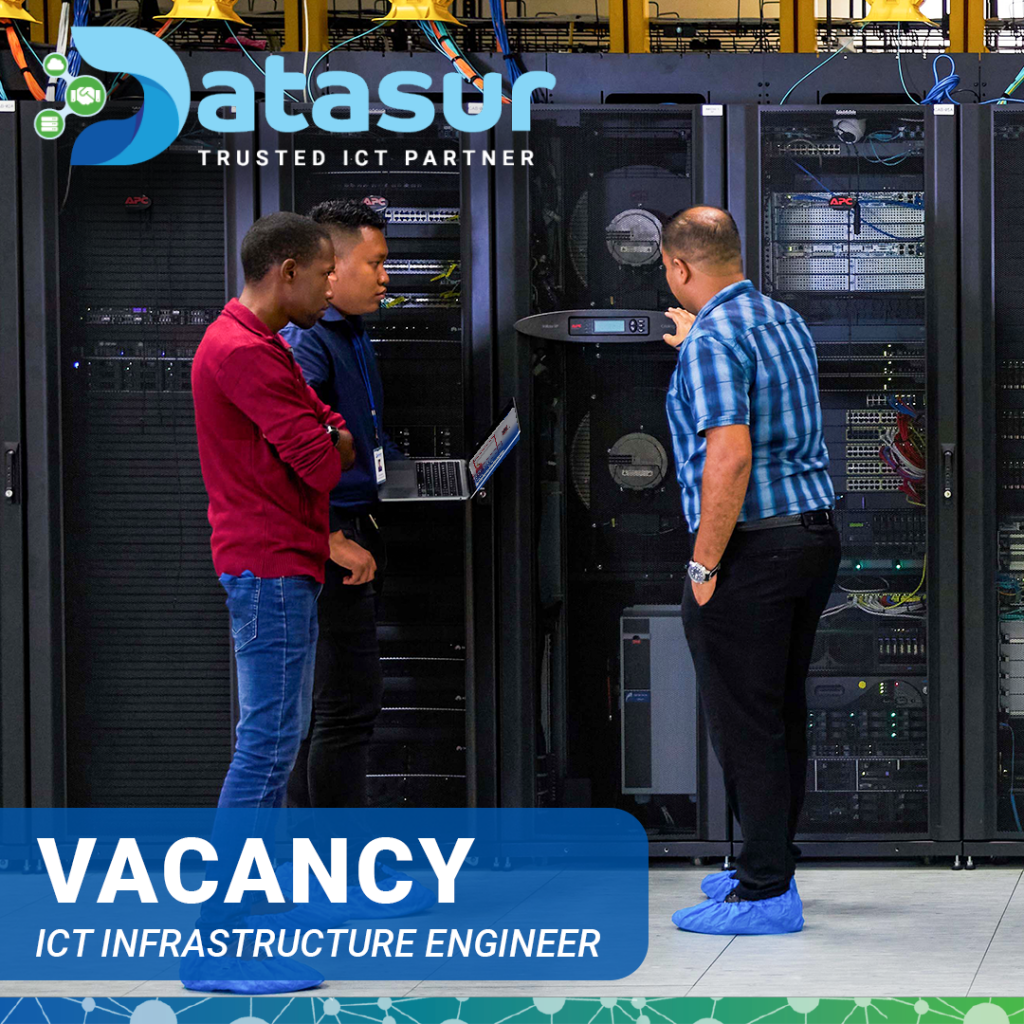 DOEL VAN DE FUNCTIE:
De ICT Infrastructure Engineer is er verantwoordelijk voor dat de prestaties en beschikbaarheid van de serveren netwerkinfrastructuur aan de afgesproken eisen voldoen. Zij zijn verantwoordelijk voor de lopende administratie en ondersteuning van alle infrastructuursystemen.
HOOFDTAKEN:
Prestatieproblemen en storingen identificeren.
Het oplossen van operationele storingen.
Het bijhouden van hardware en bijbehorende documentatie van oplossingen, notities en aanbevelingen.
Uitvoeren van hardware controles met behulp van passende test- en benchmarking tools.
Dagelijkse infrastructuurcontroles.
Wekelijks rapportages opstellen voor management.
ICT-ontwikkelingen beheersen en projectwerk uitvoeren.
Proactief in stand houden van infrastructuur om mislukkingen te voorkomen.
Onderhoud van het ontwikkelen en testen van netwerkomgevingen.
Ondersteuning en onderhoud van nieuwe server hardware en software infrastructuur.
Opstelling van gebruikersaccounts, machtigingen en wachtwoorden om de naleving van het beleid te waarborgen.
Het installeren van servers, racks, rack componenten en overig datacenter apparatuur.
Het volgen, bewaken en analyseren van de werking (performance) van de componenten van de toegewezen infrastructuur, zowel functioneel als technisch.
Het automatiseren van werkzaamheden middels scripting, cron jobs, scheduled tasks, monitoring, etc.
Het plannen en regelen van technisch onderhoud aan infrastructuurcomponenten.
Het inrichten en beheren van virtuele server omgevingen.
Het uitvoeren van back-ups, restore en recovery activiteiten t.b.v. de webbased applicaties, databases en servers.
Monitoren van logs, servers, back-ups en antivirus systemen en rapporteren van onregelmatigheden.
Het beveiligen van de netwerkservers tegen elektronische bedreigingen (virussen, spionnen, hackers, etc.).
Het voorstellen/invoeren/aanpassen van de daarvoor benodigde maatregelen, procedures en instructies.
Het beheren van Oracle, MYSQL, MSSQL en PostgreSQL database omgevingen.
Het beheren van Linux omgevingen o.a. Redhat Enterprise, CentOS, Ubuntu en kennis van containers (OpenShift en Kubernetes).
Het beheren en uitrollen van Microsoft 365 omgevingen.
OPLEIDING EN WERKERVARING:
Afgeronde postgraduaat (B.Sc., B.B.A., etc.) opleiding of HBO denkniveau
Minimaal 3 jaar relevante werkervaring met betrekking tot beheer en operations processen en werkmethodes binnen het ICT-gebied
Ruime kennis en ervaring met netwerk-, storage- en serviceapparatuur
Kennis van ICT & business management best practice frameworks (ITIL, ISO27001, ISO22301)
Conceptuele kennis van netwerken, systemen, Cloud en Datacenter technologieën
Een positieve, praktische en leiderschap instelling en geen 8 tot 4 mentaliteit
Uitstekende communicatieve en sociale vaardigheden in woord en geschrift in zowel Nederlands als Engels
Bereid in hybride werkvorm (online 60% & fysiek 40%) te werken
COMPETENTIES:
Resultaatgerichtheid
Coachen
Kwaliteitsgerichtheid
Aandacht voor details
Probleemanalyse
Oordeelsvorming
Stressbestendigheid
Mondelinge vaardigheid
Schriftelijke vaardigheid
Oog voor detail
Probleemoplossend
Stressbestendig
Representativiteit
Persoonlijk leiderschap
Flexibel
Loyaal
Analytisch vermogen
DATASUR BIEDT AAN:
Een marktconform salaris met bonussen op basis van prestatie en daarbij horende voorzieningen van ziektekosten, pensioen, etc.
Een uitstekende werksfeer waar nadruk gelegd wordt op inzet, resultaten en slagvaardigheid
Werken in een jong dynamisch IR4.0 bedrijf
Hybride werkvormen (online en fysiek)
Will you be our new colleague? Apply now by sending your resume and application letter to hrm@datasur.sr.