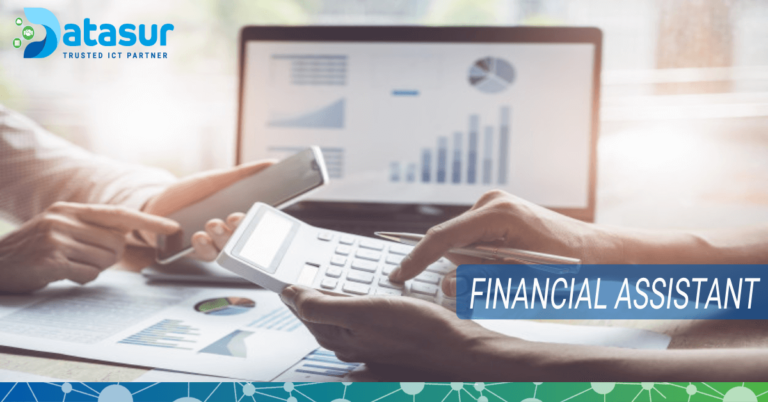 Financial Assistant
We are looking for a Financial Assistant to strengthen our Financial team.
The Financial Assistant's responsibilities include processing payments, maintaining expense reports, and managing invoices. Do you have an accounting background and are you interested in procedures such as tax management and budget preparation, then we look forward to receiving your reflection (CV and motivation letter) per mail. Please send the necessary information to info@datasur.sr until April 21, 2021. 
Role Description
The Financial Assistant collects, records and processes data of a financial administrative nature to support healthy financial operations at Datasur. The Financial Assistant supports the Financial Officer and reports directly to the CEO. The Financial Assistant's responsibilities include processing payments, maintaining expense reports, and managing invoices. Performing accounting work, tax management and budget preparation.
Main Tasks
General and overall responsibility for all aspects of financial administration management.
Effective financial reporting for business operations, in a timely, accurate, relevant and informative manner.
General financial administrative tasks through accounting of income and expenses.
Maintaining and reporting general ledger accounts.
Maintaining and reporting the monthly payment lists (creditors and debtors).
Cash flow management and preparation of monthly cash flow projections.
Preparing monthly management accounts for the CEO.
Management of accounts payable and accounts receivable.
Maintain registration of fixed assets.
Maintain contacts with banks for all financial matters, regarding online fixed payments.
Closely monitor revenue compliance and intervene with payers.
Ensure confidentiality and professional integrity are maintained at all times.
Processes outgoing and incoming invoices for the organization's accounting purposes and is therefore responsible for managing the accounts receivable and payable administration.
Processes adequate and accurate bank statements in the cash, bank and giro books.
Checks and updates credits and savings.
Processes other financial information and keeps documents and copies in appropriate places.
Checks administration, invoices and declarations for completeness and correctness, identifies and corrects differences and inaccuracies.
Periodically reports internally on the financial state of affairs in accordance with financial reporting standards and legal obligations.
Conduct feasibility studies of possible extension of services.
Be flexible, adaptable and available to take on other duties or tasks as requested by the CEO.
Training and Work Experience
Completed relevant higher professional education (Business Administration, BBA) or has demonstrably reached this level by means of work and thinking level.
At least 2 years of work experience in a similar position.
Knowledge of the application of relevant (financial) applications and automated systems (such as WHMCS, Ezora, Twinfield) is an advantage.
Knowledge of and insight into the administrative processes and structure of the department (s), as well as into (the conceptual framework of) the administrative organization.
A positive, practical attitude and not an 8 to 4 mentality.
Excellent social skills in speech and writing 
Competencies
Result-orientation 
An eye for detail
Problem solving 
Organize and plan
Stress resistant
Representativeness 
Personal leadership 
Organizational sensitivity
Vision
Decisiveness
Oral skills