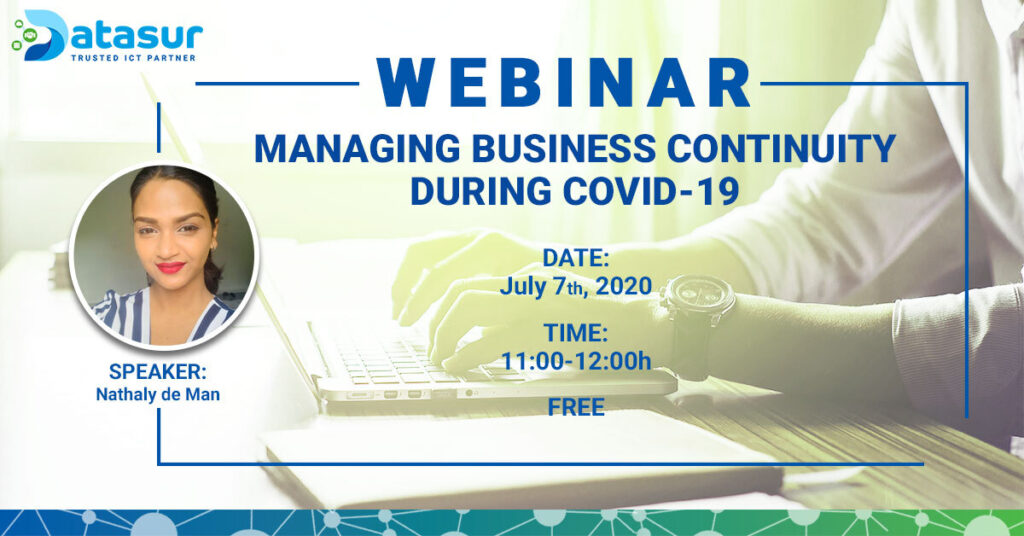 For our first Webinar, we chose to talk about Business Continuity Management (BCM) during COVID-19. In January 2020, the World Health Organization officially declared COVID-19 as a pandemic, having intriguing impact on the way business is conducted. Adapting to the new normal during such a pandemic requires extensive business flexibility and planning. Whether it's working from home and digitalizing the relationship between companies and their customers or the employees and its employers, these changes include new risks for companies to be cautious of, making it the perfect time for businesses to re-evaluate their Business Continuity Management program.

A Business Continuity Management system emphasizes the need to establish business continuity policies and objectives. Companies that are ISO 22301 (BCM) certified have a higher degree of resilience. The reason for this is because in an ISO process you're constantly optimizing, (since it's a systematic process), according to the plan, do, check, act principle. These companies are therefore up to date with the changes and can make themselves more resilient. Due to all the digital changes, Business Continuity must have a holistic approach.

To implement a successful Business Continuity Management Program, companies must consider having all stakeholders give substance to this program. Depending on the complexity of the organization, you sometimes need multiple BCP's. In this case, it must be ensured that the different plans are in line with each other, and the organizational strategy.

Develop a BCM program in 6 steps:

Step 1: Start with BCM governance, in which you indicate what the scope is, what your objectives are, and set measurable goals. Designate who your key employees are: whom do you need in the event of a malfunction, whom do you need during recovery etc.
Step 2: Perform a risk assessment and business impact analysis.
Step 3: Consider how you'll mitigate the risks and which recovery strategies are available.
Step 4: Choose the suitable solutions for your company.
Step 5: Test, training, and awareness.
Step 6: Continue to maintain your program.
If you're familiar with management and quality systems, you probably recognize this circle. It simply follows the plan-do-check-act principle in several steps. It's a continuous process, requiring constant optimization.
Do you have a BCM plan that needs testing or reviewing? We'd love to help. Contact us today through the button below.