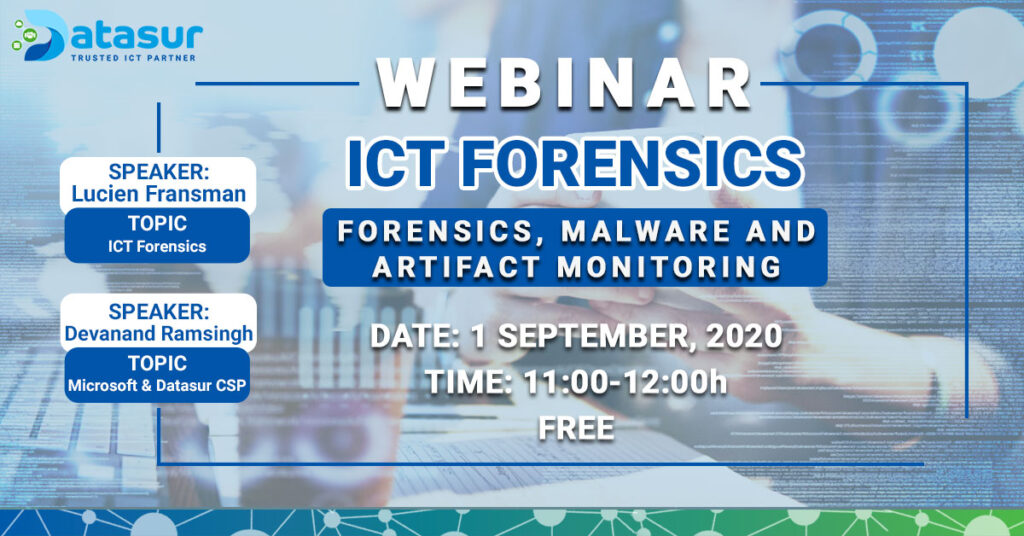 Good news! On the 1st of September 2020, we'll be organizing our 2nd free webinar. This time we'll zoom in on 'ICT Forensics' and 'Microsoft & Datasur CSP'.  During these two sessions, we'll cover:
Today's threats
What to do after an incident
Forensics
Malware analysis
The cloud solution provider (CSP) program
Managing the end-to-end customer lifecycle and more!
Our speakers for this webinar are Lucien Fransman from Ironbox NV and Devanand Ramsingh from Microsoft. 
Program free webinar
10:55 – 11:05: Introduction  & Welcome by Gabriella Timpico
11:05 – 11:35: Presentation 1- ICT Forensics by Lucien Fransman
11:35 – 11:50: Presentation 2 – Microsoft & Datasur CSP by Devanand
                              Ramsingh, Microsoft
11:50 – 12:00: Q&A & Closing